Discovering
Hibiya
Hibiya is a district where you can experience various cultures
and arts in an environment of lush greenery,
which is also a pivotal business district.
We will introduce the uniquely attractive character of Hibiya
as an extraordinary place with various faces,
that nowhere else offers.
About Hibiya
There is no actual address designated as "Hibiya" although there are many places that use the name, such as Hibiya Station and Hibiya Park. In fact, Hibiya is the term used for the area covering from Yurakucho to Uchisaiwaicho in Chiyoda City. Although there are various theories about the origin of the name, this area used to be a cove and it is said that the pronunciation of the word "hibi" , meaning special equipment used in the growing of edible seaweed, evolved into the name "Hibiya".
After the Meiji Restoration, several famous buildings such as the Rokumeikan and the Imperial Hotel were built in Hibiya, and the area developed as Japan's international diplomatic base. In addition, Japan's first modern Western-style park, Hibiya Park, was opened. In the Showa era, starting with the Tokyo Metropolitan Hibiya Public Hall, which was a symbol of reconstruction after the Great Kanto Earthquake, the Tokyo Takarazuka Theater and the Hibiya Movie Theater were established one after another. Thus, Hibiya became "a district of movies and theaters", resulting in it being considered a major center of entertainment. Not only from that aspect, but also Hibiya has evolved as an attractive district with rich greenery and a flourishing base of business. Furthermore, with the "Basic Plan of Hibiya Area Urban Development " established in 2011, we can expect the target area (within green dashed lines in the map below) to further develop.
Click here to learn more
about the history of Hibiya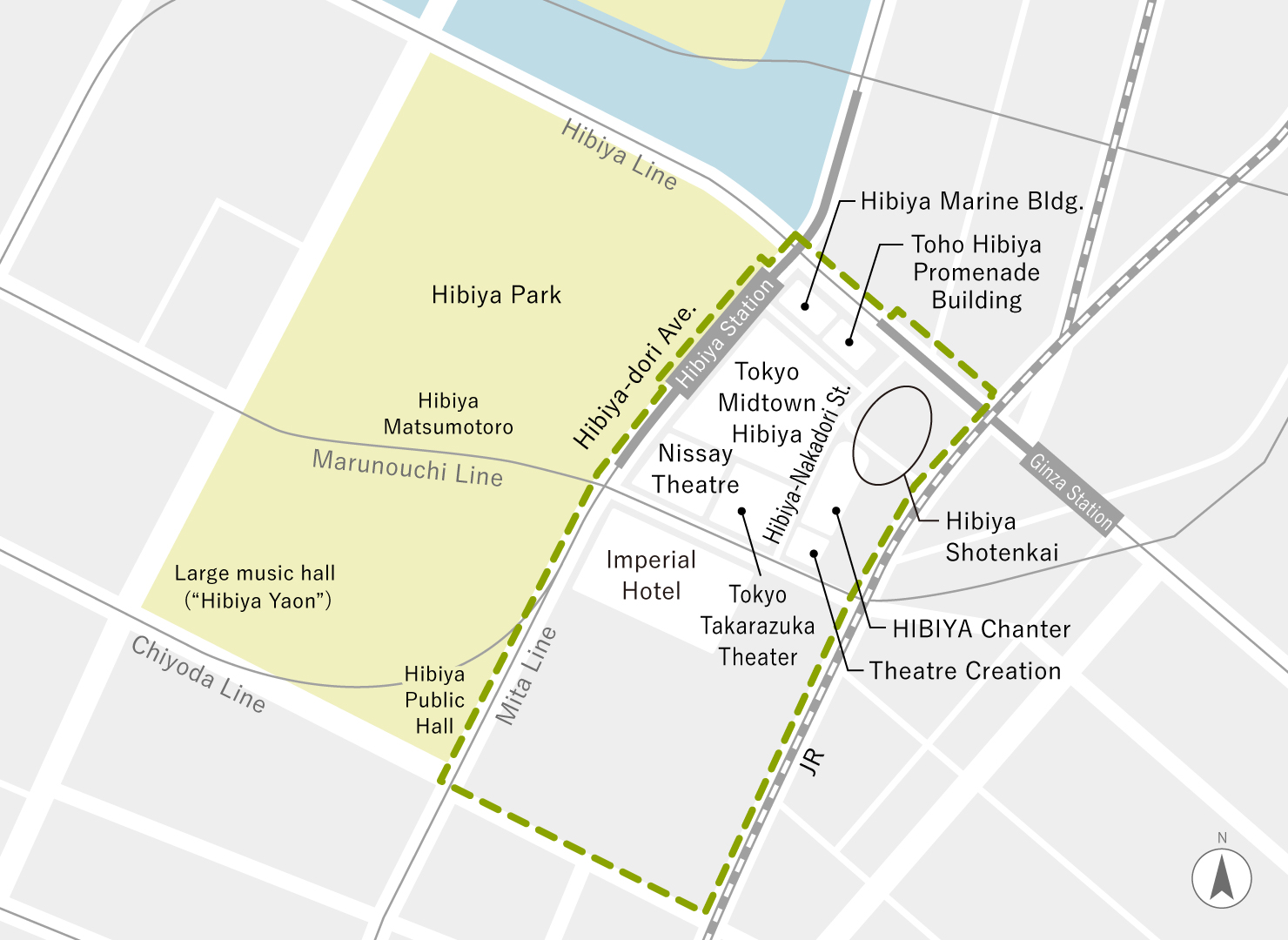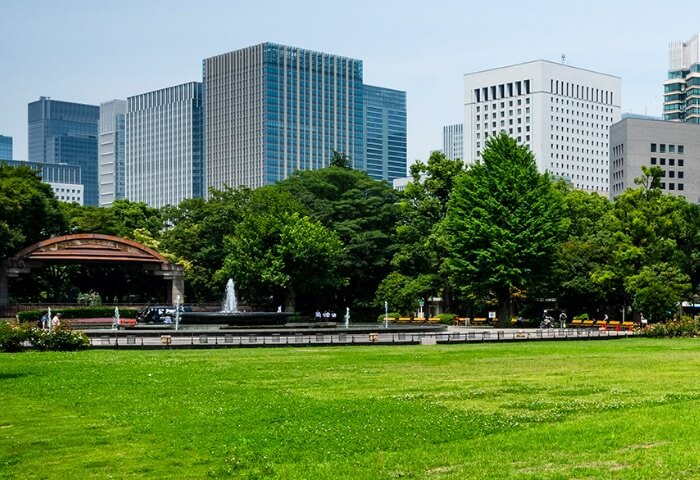 Hibiya Park
Japan's first modern Western-style park was created as an "urban park" in 1903. The vast 16.2-hectare grounds are adorned with various different flowers throughout the four seasons, and it also has a public hall, large and small concert halls, and a library.
The Center of
Entertainment
Hibiya, a cultural district that was established in the Meiji era, is still home to some of Japan's most famous theaters and popular movie theaters. Music facilities such as Tokyo Metropolitan Hibiya Public Hall and Hibiya Open-Air Concert Hall, which is regarded as a great sanctuary of open-air concert halls, offer high-quality entertainment. You can spend extraordinary moments that you cannot experience anywhere else but in Hibiya, which has been continuously developing as a center of entertainment in Japan.
Nissay Theatre

Established in 1963. It is one of the Showa-era's representative buildings, featuring a white marble floor, a spiral staircase, and a ceiling decorated with Akoya pearl oysters. Seating capacity is 1,334. A wide range of works such as operas, plays, and musicals are performed there.

Photos by TOHO Theatrical Department

Imperial Theatre

Established in 1911, it was Japan's first Western-style theater and symbolized the modernization of Japan. The number of seats is 1,897. The theater, widely known as "Teigeki", continues to host performances of timeless masterpieces, including monumental musicals.

Tokyo Takarazuka Theater

Established in 1934 as a base of the Takarazuka Revue in Tokyo, with seating for 2,065. You can enjoy the gorgeous stage of the Takarazuka Revue with the audience seats designed to enable everyone to comfortably view the stage and a variety of stage equipment.

Photos by TOHO Theatrical Department

Theatre Creation

Established in 2007 as a theater that inherits the spirit of its predecessor, Geijutsu-za. The number of seats is 611. This theater showcases various works that combine artistry and popularity through theater, musicals, and concerts.

TOHO CINEMAS Hibiya

Established in 2018, with the concept of "the palace of movies". There are 11 screens in Tokyo Midtown Hibiya and another 2 in the Tokyo Takarazuka Building, with 2,830 seats in total. You can enjoy viewing in the largest sophisticated movie space at the center of Tokyo.

TOHO CINEMAS Chanter

Established in 1987. The theater has 3 screens and a total of 618 seats. It mainly shows art movies as a mini movie theater. In the calm atmosphere, you can relax and immerse yourself in the world of cinema even before the screenings.
As a Business Base with Lush Greenery
In 1930, the Sanshin Building, which symbolized Hibiya, was established, then in 1960, the Hibiya Mitsui Building was completed and recognized as the greatest office building in the East at the time. Since then, various head offices of Japanese key industries were established in the area, such as the Nippon Telegraph and Telephone Public Agency Headquarters Building, known as the "Hibiya Denden Building" (currently NTT Hibiya Building), the Tokyo Electric Power Company Headquarters Building , and Dai-Ichi Kangyo Bank Head Office Building, and Hibiya's history as a business center began.
After many years, in 2018, Tokyo Midtown Hibiya opened aiming to realize a flexible working style. It became a convenient, attractive location as a business base, where you can easily access many places of importance in Tokyo while being adjacent to vast areas of greenery such as Hibiya Park and Kokyo Gaien National Garden.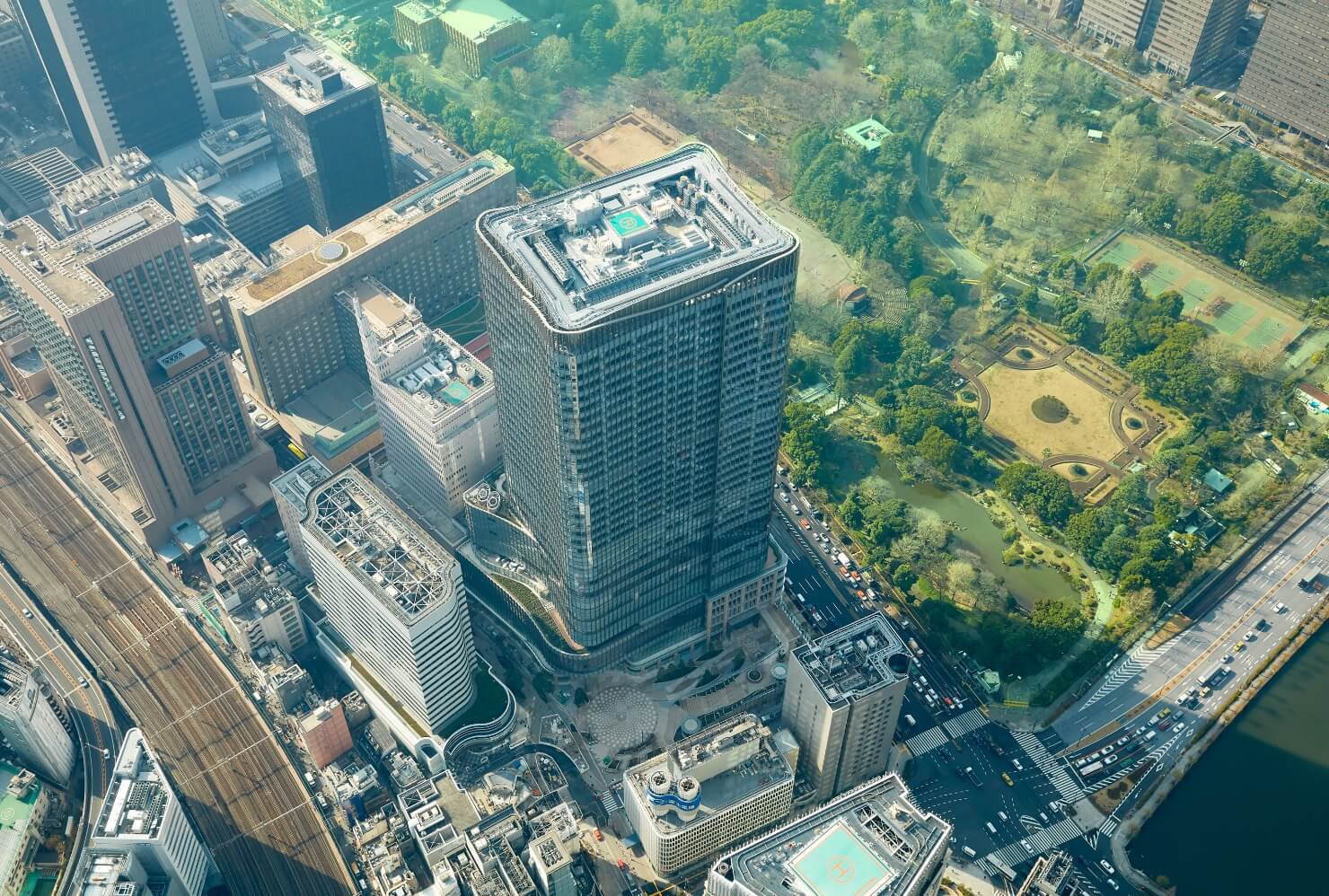 Future Urban Development in Hibiya
Utilizing the potential of Hibiya
to become a new base in Tokyo
Hibiya is located at the center of areas with various characteristics, including Otemachi, Marunouchi, and Yurakucho, which make up the main business center that represents Tokyo, Kasumigaseki, which is a principal government office district, Shinbashi, and Toranomon, that are being actively developed, and the Ginza, which attracts sightseeing tourists. At the same time, its location right next to the vast green areas of Hibiya Park and Kokyo Gaien gives Hibiya a unique charm. Furthermore, regarding the Uchisaiwaicho 1-Chome District, the government plans to construct a park in the sky over the road that connects Hibiya Park to the city center, which is currently divided by a major thoroughfare, as an urban redevelopment project. In the future, a pedestrian walkway network linking the park and the district will be established.
Hibiya has been continuously evolving by utilizing its cumulative history and unique locational characteristics. It has a great potential to create a brand new urban hub that connects areas of central Tokyo.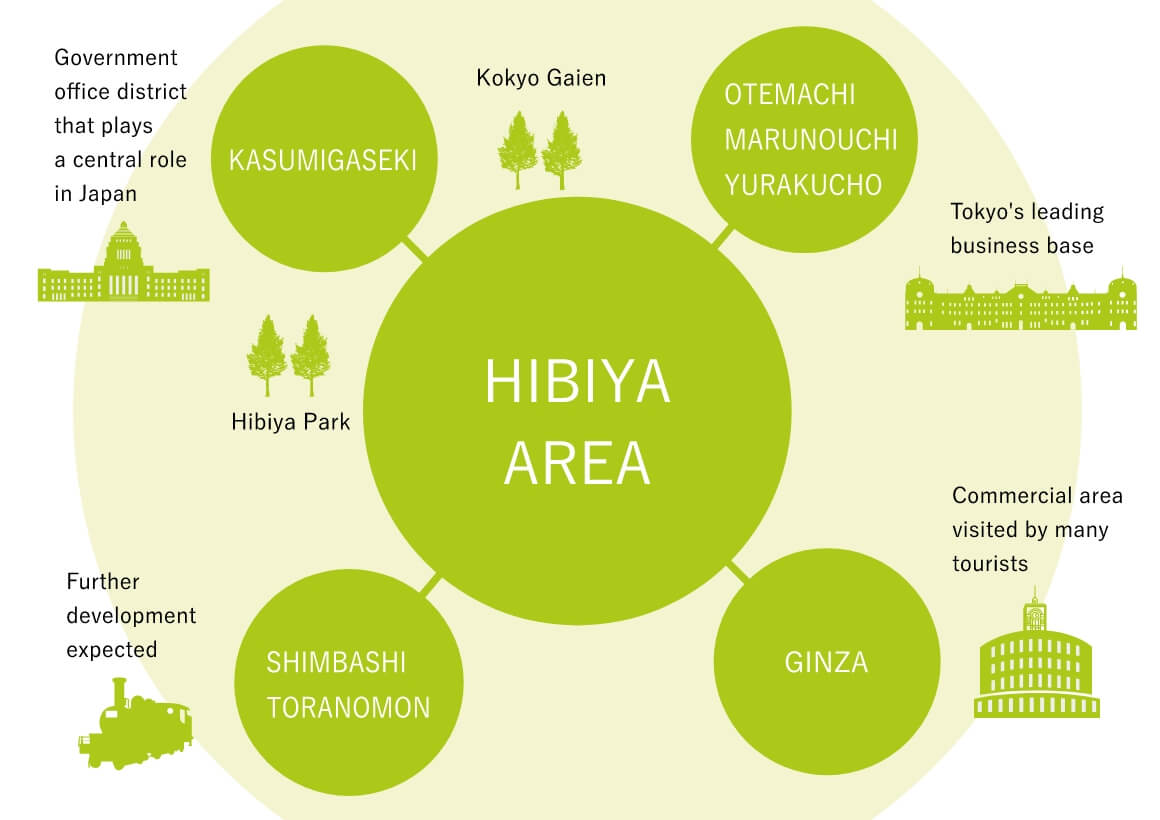 Aiming to create a district that integrates "business, art culture,
and the natural environment"
Hibiya, home to many theaters and movie theaters, is a district that provides us with high-quality entertainment. In 2014, the district was certified as the first National Strategic Special Zone in the Tokyo area by the Cabinet Office, and is expected to become an international business base. In addition, it is adjacent to Hibiya Park, regarded as the central park of Tokyo, so you can immerse yourself in the liveliness of nature amid lush greenery. Thus, the major goal of the development of this area is to effectively merge the rich environmental surroundings and urban functionality.